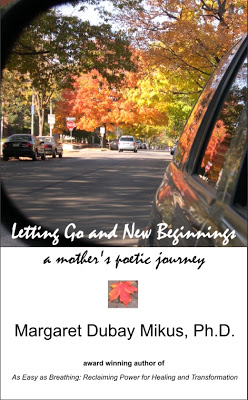 FIVE STAR REVIEW:
"Margaret's poems are always personal, yet universal, in that any sensitive reader will be able to identify with the thoughts they embody…lyrical…concise and still as elaborate as prose…. This particular anthology focuses on letting go of your children 'when their hours are no longer woven into the fabric of your days.' [She] not just gives voice to feelings that are often repressed, but sincerely seeks to heal. Above all this is a labor of love from a…loving mother, adorned with words from the heart and simple photographs that complement the words beautifully. I highly recommend this book…to all sensitive readers who are working on letting go in any way."
–Pramod Uday, spiritual teacher from India
Yes, it's time again to try something new. I am offering a deep discount of 75% off on my second book, Letting Go and New Beginnings: A Mother's Poetic Journey. For the rest of this week only you can own it for only $1. Just enter code REW75 upon check out.
You can read this book on your computer, e-book readers (including Kindle and Nook), tablets, and smart phones. If you have color capacity you can view my photos in full color (or in b/w, if not). You can read a free sample before purchase. Thank you for your support!
My husband chose to read this poem at his mother's memorial service as the "voice of the mother."
2/24/08
After You Left
Constantly
I am watching out for you.
Even when I am not watching,
I am watching.
I cannot say why this is true
or when it began,
it feels like forever
my love.
So do me a great favor
and become…not less carefree
nor less careless,
nor even more careful,
for being full of care
is not it exactly.
Be more aware of your choices,
more in tune with your inner wisdom.
For you are wise
dear one.
And if I am selfish
and want you to stay with me
when it is clearly time to go,
forgive…
and go.
Call me when you arrive.
I will be waiting.
Margaret Dubay Mikus
Copyright 2008
For more of the story you might like: https://www.fullblooming.com/surprises-of-both-kinds/