I was born in 1952, the second of seven children, the oldest daughter. We grew up in suburbs of Detroit and attended neighborhood Catholic schools. My Dad worked in a factory that made gel capsules and my Mom was proud of being a registered nurse. For most of my life I thought I was not a creative person and so I followed the path that seemed open to me, which was academics, particularly science. From early on I was a voracious reader, which had a side benefit of helping me in school. After graduating from Bishop Gallagher High School, I won a scholarship to attend college in Michigan.
It was 1970, a time of great tumult and upheaval. Eagerly I set off into the wide world. I earned a B.S. in zoology from the University of Michigan (where I met my future husband, Stephen, in a literature class). We married three weeks after my graduation. We were both twenty-two. Several years later we moved to Chicago, a vibrant city with opportunities for both of us. I worked in a research lab, then earned a Ph.D. in microbiology from the University of Chicago. A post-doctoral fellowship in biochemistry followed (University of Illinois at Chicago). I was headed for a career in molecular genetics (gene cloning) research and teaching.
Our two children were born during my post-doc. The year after my youngest was born, I was diagnosed with multiple sclerosis. With my future health uncertain, I knew I couldn't wait to do what I wanted with my life. Soon after, I started teaching biology courses at Lake Forest College. As my health declined, I began a transformative journey that led me to make major changes and ultimately healed not just my body, but my life. In the process, my "science self" did not vanish, but gave me the foundation and the confidence for what was to come.
How did this transformation come about? Initially, I just wanted to cope better with my physical decline. With the help of healthcare professionals, I successfully integrated conventional medicine with my own personal mix of unconventional therapies, including psychotherapy, music, massage, writing, re-connection with Spirit, and energy balancing. I was practical, determined, and persistent. I took one small step at a time. In spring of 1995, I healed from MS. I then undertook physical rehab to undo the adaptive changes MS had wrought in my body.
That autumn, I began writing a poetic journal to "sing from the heart." I wrote about all facets of my life. These diverse pieces bubbled up as if they had been waiting in line for me to pay attention. This creative awakening was a huge surprise! These poems can be found in publications, including anthologies, on FullBlooming.com, in my books, CD, and Blog.
One year later, I was devastated by a breast cancer diagnosis, which seemed grossly unfair. Hadn't I already worked hard on healing? With guidance from Spirit and the help of many generous people, I again integrated conventional medicine (surgery, chemotherapy, and radiation) with an expanded array of healing tools, including Reiki (healing energy transferred through the hands), hypnotherapy, affirmations, and yoga. Humor was definitely a part of my therapy! Voice lessons were essential to my process. I read avidly, listened to tapes, and attended seminars on healing. I formed a healing circle of family and friends. I ate healthy foods and exercised. I was determined to do whatever it took to heal my body, mind, emotions, and spirit. My previous success healing from MS gave me confidence in my ability. I healed from cancer, my life was deeply healed, again profoundly transformed. (More in As Easy As Breathing.)
Eleven years later a new tumor was found after a routine mammogram. I was shocked. Genetic testing found that I carry a BRCA2 mutation. This fascinating gene, when mutated can lead to problems with DNA repair, which may increase incidence of some cancers. After extensive deliberation, I chose to have a bilateral mastectomy with removal of both ovaries. I did this in my usual way by gathering resources and a healthcare team to support me, integrating conventional and unconventional modalities. This was a very personal and practical decision, to do what works best for my healing.
To give to my surgical team, I created a chapbook, New Year's Eve Surgery. I chose poems I wanted to share and seasonal photos from my yard. I had the team all sign my copy. This connected us in a very healing and deeply human way, opening a powerful dialog. You can have this collection in Free Downloads to print and re-construct the chapbook, or read it digitally if you prefer.
So many people have helped me, more than I can ever thank or repay. I am most grateful! Please know I strive to pass along what you taught me.
Though breast cancer has not returned, In the years since I have dealt with many medical challenges including depression. Each time I learn more about healing and integration, what it means to be strong and resilient, how to take care of myself. In MDM in the News—By MDM, you can read some of my healing stories and philosophy.
From my enthusiasm for creativity and healing, I developed workshops, wrote, and resumed my interest in photography (visual poems). Albums of my pictures can be seen in the Gallery. Using my poems and photographs, I created Life Support Cards™ "for all ages and seasons of life." My book, As Easy as Breathing: Reclaiming Power for Healing and Transformation—Poems, Letters and Inner Listening, inspired many people to make positive changes in their lives. These life-affirming pages are about living deeply, using everything that comes as an opportunity for growth and clarity. My second book, Letting Go and New Beginnings: A Mother's Poetic Journey, was begun while trying to cope with my children leaving home for college. (My daughter asked me if I missed her…and I sent fourteen poems.) This is a universal story for those who are letting go in any way. You can read Book Reviews here. I am honored that both books have won Awards. I chose fifty-six poems to read from both books for my CD, Full Blooming: Selections from a Poetic Journal, which also includes three original songs. Read comments here.
My work life must meld with a rich and complex family life. This is the challenge: to fully live the life I have, allowing all aspects to enrich the others. I am grateful for the beauty that flows through me, and the Love, which is my true nature. I wish you a loving life of vibrant health and joyful purpose.
Love,



Margaret Dubay Mikus, Ph.D.
Radio interview with Celeste Quinn on WILL-AM (an NPR station) in 2004. From the Afternoon Magazine Archives
Read this thoughtful Interview of me in the Willow Review
Promise
I can tell you how I got here
and you might try to follow,
but not find what you sought:
your own true heart.
I can describe the nuts and bolts,
I can tell a good story,
I could have you laugh
or weep with me…
and perhaps I will.
But you must promise
you'll take into you
only the parts that are your own
You must promise not to even try
to be like me.
You must promise you will
become who you really are
and then you'll tell me your stories
and I will take from them
what is mine
Margaret Dubay Mikus
Copyright © 1998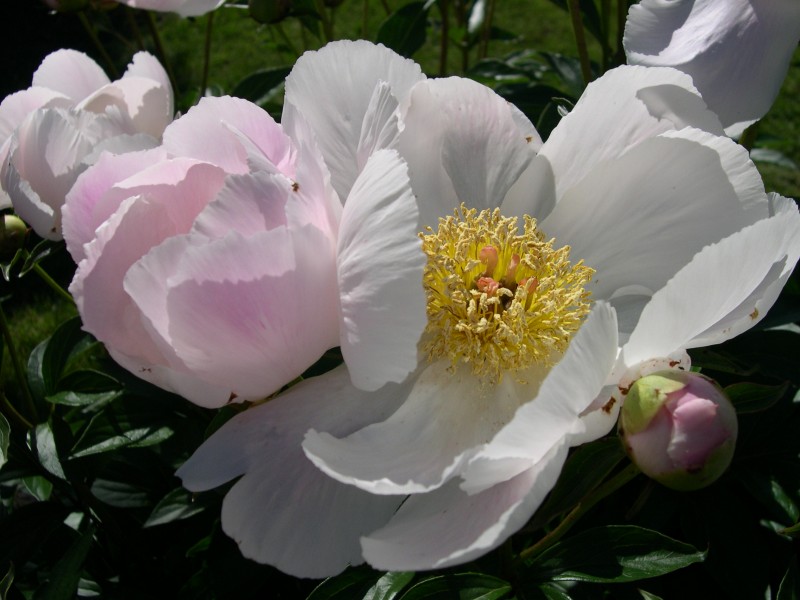 Peonies by Margaret Dubay Mikus, Copyright 2006