There is a breast cancer support group in Michigan where I am known as "the author of 'Bird Poop,' " which is a poem from As Easy as Breathing: Reclaiming Power for Healing and Transformation. Someone even got up on a picnic table and read it aloud at their summer picnic a few years ago, as I recall. I have never met these lovely women, but this story still warms me. "Bird Poop" continues to be one of the most popular tracks on my CD. Does this remind you of anything in your own life? Here it is:
Bird Poop
I don't feel
that I have cancer:
not just physically,
that surgery
successfully removed
abnormal cells…
but mentally, I am not
"a person with cancer;"
cancer is something that
is happening to me.
If a pigeon poops on your head
you don't become
"a person with bird poop,"
it's just something that happened to you.
You clean up,
tell your tale
and move on.
Margaret Dubay Mikus
© 1996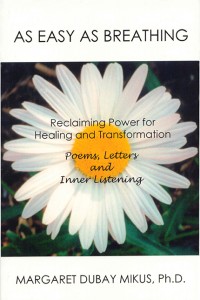 To hear me read "Bird Poop" on my CD, Full Blooming: Selections from a Poetic Journal click here and scroll down to track 11.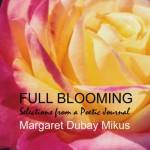 Thank you for sharing!