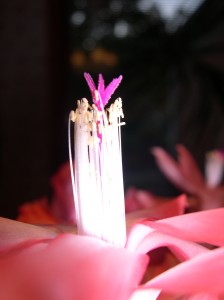 This poem has been in my head the last few days. A bit of context: I wrote it after healing from multiple sclerosis and then rehab. And then, at age 44, after diagnosis with two breast tumors, one in each breast. Followed by surgery, chemo and radiation. Appreciating the healed body, reminding myself of all I am grateful for. So here it is:
This Is the Moment I Have
not tomorrow
with its joy or sorrow.
This is the moment—
when I floss my teeth,
and stand on two strong legs,
smiling in the mirror
at a face topped by hair.
This moment of easy breathing
with husband and children
deeply sleeping nearby.
This moment with fresh, cool
spring air blowing in my window
from a dark, rich night capped by stars.
This is the moment I have,
not next week or next month,
however much time and energy
I spend planning them.
How often am I actually
here…
in this only moment I have?
Margaret Dubay Mikus
© 1997
From my book, As Easy as Breathing: Reclaiming Power for Healing and Transformation.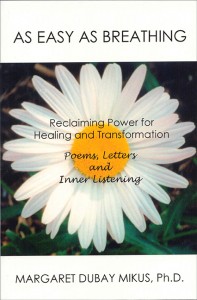 And track 25 on my CD, Full Blooming: Selections from a Poetic Journal.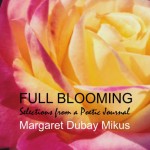 Feel free to share. Thanks for reading. Do you know this feeling?