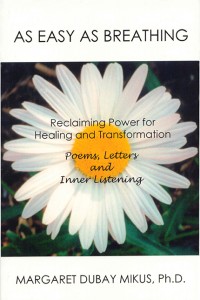 Years ago a doctor who was reading my book, As Easy as Breathing: Reclaiming Power for Healing and Transformation, came up to me at a Bethany Hospital awards dinner we were attending. He told me he read a poem a night and that his favorite was this one. Please share if this speaks to you!
Wisdom of the Grandmothers
When I last spoke
to my Grandma Dubay,
when her voice was raspy and rough,
when she would occasionally
forget to whom she was speaking,
but otherwise could carry on
a perfect conversation,
I asked her what she would do differently,
looking back from now,
and she said she would
be less worried about cleaning house
and spend more time with the kids,
for time passes quickly
and so soon they are grown and gone.
She was also a great advocate
of taking care of yourself,
getting enough rest,
letting go of stress.
She ate carefully,
exercised regularly
and had a bedtime glass of sherry.
She lived a full, long life
to ninety-three.
My Grandma Schulte
also gave that advice often:
"…take care of yourself."
How rarely I heeded their wisdom!
This may be the meaning now
of all this breast cancer:
to make a whole season of women
who have learned to take care,
and who let go of being
the "Nurturers of All,"
but themselves.
Margaret Dubay Mikus
© 1996
Listen to track 13 on my CD, Full Blooming: Selections from a Poetic Journal.