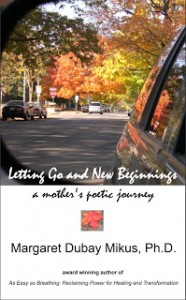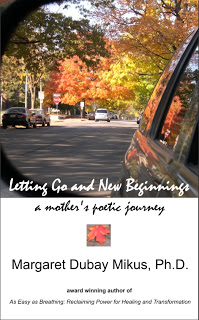 Just had a flash to offer my book,  Letting Go and New Beginnings: A Mother's Poetic Journey, for FREE for today only, the last day of Read an E-Book Week. Enter coupon code RW100 upon checkout.
When I was editing Letting Go and New Beginnings, I had the idea for my Mom to proof read it. She was struggling with a form of dementia from repeated small strokes and I thought this might help her. And it would help me to have fresh eyes read the pages. As a side benefit it caused me to think back to when she let me go, the first of her seven children to head to college.
On the day my parents dropped me off at the dorm, I was 18 and eager for them to leave and to get on with my new life. With six other kids at home I did not really consider what all this meant to my Dad and Mom, the hole I might leave. Working on the book with my Mom opened a conversation about her feelings when I left home forty years before, giving me new insights.
Here is another poem from Letting Go and New Beginnings: A Mother's Poetic Journey
1/11/06
Seasoned Woman
Seasoned like a succulent feast
with spices both wild and ordinary,
used in unusual, unexpected combinations,
rich, complex, sweet, sour, simple, bitter-bite,
surprising, challenging the senses, satisfying.
And seasoned like wood now ready for good use,
waiting to be crafted into
something of great beauty and value,
an exquisite table polished to mirror sheen,
a hand-carved boat lovingly left deliberately rough,
a delicate or sturdy figurine shaped
from an almost remembered dream.
And seasoned by the flow of days,
some hard beyond bearing:
what doesn't break you
makes you stronger.
Young, green, soft-wood no good for burning,
seasoned hardwood ready for flame.
Margaret Dubay Mikus
Copyright 2006
I also read this poem on my CD, Full Blooming: Selections from a Poetic Journal.