While searching for my poems that were inspired by singer/songwriter, John Flynn, I found this second one (included in my book, Thrown Again into the Frazzle Machine.) It was from a Facebook post on the day of Nelson Mandela's death. Reading it now reminds me of John urging us at the concert last night: to be more kind, to do something to help lift someone up. Thank you, John, for all of it.
12/8/13
White Woman from Illinois on Mandela
Posted by John Flynn on Facebook:
"I am not a saint, unless you think of a saint
as a sinner who keeps on trying."
Nelson Mandela (1918-2013)
He might be the first to say
he was ordinary,
a man making choices with great clarity,
understanding consequences
to holding hate and anger close,
how one gets burned
and nothing is accomplished.
To say now he was awe-inspiring,
to raise him so high in sainthood,
select media-glorifying snippets to focus on,
reducing him to an icon on a pedestal
does him and us a disservice
for it assumes we cannot also be better,
do better, make the forgiving choices.
It assumes he was a hero above us, beyond us,
a mythological figure, not flesh and bone.
It says we admire from afar but do not aspire
to be something held so high…
and that is wrong.
We are all capable of better,
more conscious loving acts.
We are all awesome healers
no matter our circumstance.
We do not have to reflexively perpetuate
old patterns that do not serve us.
We can heal within and radiate healing out.
Start now, start somewhere,
some small breach, maybe love yourself
a little or a little more today
as a way of remembering him,
honoring a long life of sacrifice
and ultimate joy—as a choice.
Margaret Dubay Mikus
© 2013
To hear this poem and read more about it
For my first John Flynn-inspired poem: read here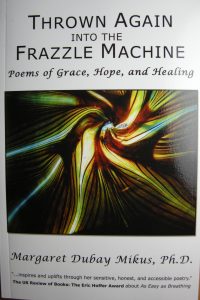 Thrown Again into the Frazzle Machine:
Poems of Grace, Hope, and Healing