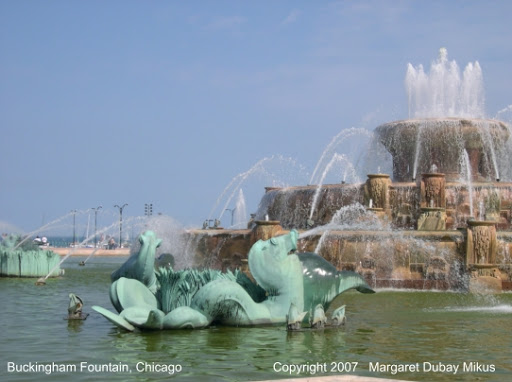 It has been very hot here, thus the refreshing fountain, which also applies to today's topic.
I read two poems last Friday at the open mic at RHINO Reads at Brothers K coffeehouse in Evanston, IL. About ten of us read (roughly 4 minutes each), followed by the two featured poets.
I am intrigued by how creativity inspires or "primes the pump" for further creative endeavors. Like writing or art or dance or architecture, etc.… opening a door to a new poem or photograph for me.
The origin of first poem is self-explanatory. Ralph Hamilton is a great guy who MCs the monthly readings. A bit of a risk reading a poem for someone who was there. But I gave him a heads up when I sent him an earlier version of the poem last week. Bravely, (or kindly) he did not discourage me from reading it.
The second poem is a reflection on the healing power of art inspired by Woman Made Gallery in Chicago. Beate Minkovski is the co-founder and executive director. I have been a member there for years and I never leave without feeling energized.
What inspires you?
6/9/11
In Response to Ralph Hamilton
(inspired by a Rhino blog entry on what he looks for in poetry)
Let me gently read aloud
your razor words back to you
so you will hear and see and feel what I do
what is true and not true.
So you can step outside
the mind creating
and be immersed in creation,
be swept away swimming.
You are unworthy you say
self-absorbed, lonely, even lazy.
Yet what you dared to write
sings louder to me than words.
Be kind, outside the familiar
voice of harsh critical judging,
reflecting on how far from
the intent is the attempt.
Be generous, as if you were someone else,
believe your words bravely written
have something essential to say to someone,
open long-closed channels, move immovable mountains,
expose exquisite unique facets.
Poetry is big enough you say
for differences to grate or soothe or rouse.
There is no success or failing,
there is no measuring up to
what might have been, if only…
There is only this:
life, full, repressed, expressed.
And a container, hopeful bowl of cherries,
even pitted, may still contain pits.
Risk a bruised or broken tooth
for the tart sweetness and abundant juice.
Margaret Dubay Mikus
© 2011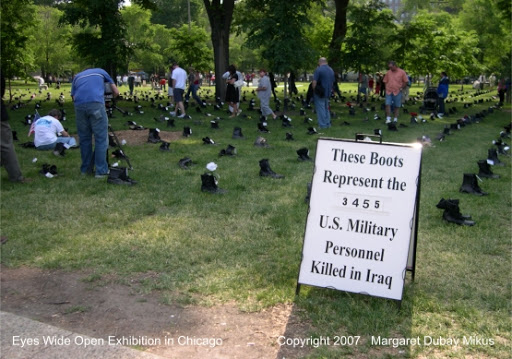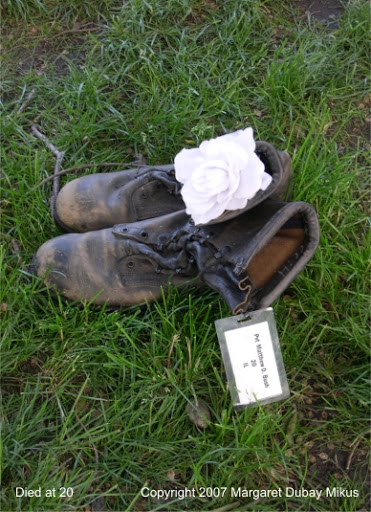 (These two evocative photos were taken at Eyes Wide Open, Beyond Fear–Towards Hope: An Exhibition on the Human Cost of the Iraq War in Grant Park, Chicago, IL, May, 2007
2/27/07
Thinking of Beate
Sometimes art heals
by soothing, sometimes
by lancing the boil, or
by opening the eyes
to fresh possibilities.
Sometimes it closes a door
to a room filled with stale air,
sometimes screams
from a dark bottomless pit,
sometimes presents
wonder on a silver platter.
Sometimes art compels to look,
sometimes can barely look;
the healing subtle
or heart pounding,
one fully present moment
resounding over the ages.
All I am telling you is this:
there is no doubt art heals.
Margaret Dubay Mikus
© 2007