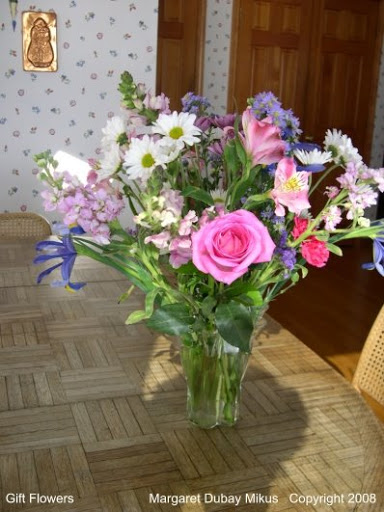 We were married ten years before having kids. My husband finished law school at the University of Michigan and we moved to Chicago, where both of us had job opportunities. After working for a year at Children's Memorial Hospital in immunology research, I was accepted at graduate school, earning my Ph.D in microbiology from the University of Chicago. My field was molecular genetics research (DNA cloning, studying gene regulation in yeast and fruit flies).
When our son was born we decided we wanted to raise our children ourselves. Since I earned less money, I was the logical one. After my maternity leave, we hired a wonderful woman to help and I worked part-time. When we built a house and moved out of Chicago, I stayed at home with two small children. It was an enormous shift in my life. I remember being very lonely at times, missing the intellectual part of my life. Slowly I made friends, often through the children (parents at pre-school or other activities). I ran the household and kept track of everything. My husband went off to work. We each had our roles. And we worked hard to keep a balance. Still, I collected no salary. And in a culture that values what brings in money, it can seem that "women's work" is not valued.
Often this work is invisible, each thing done is so small, yet in the aggregate, the essential glue holding daily life together. It is easy for me to completely fill a day with these small tasks and yet feel no accomplishment. So many things are repeated over and over. Easy to get discouraged when it seems like nothing gets done. Often this work is unacknowledged or under-appreciated by others. So important then, for women to honor this work ourselves, to notice and value what we do, what we bring to our family. Crucial to see the whole of it, the big picture. Like a stone dropped on a still pond, gentle ripples go far out from the center and can affect things near and far.
1/30/01
Woman's Worth
My worth as a woman,
as a human,
has nothing to do
with whether dust
collects on my floors
and everything to do with
my heart wide open,
my arms embracing.
Even that is as nothing.
My worth is in being—
whatever form I may take,
for how long or how deep,
how high, how steep the climb,
worth not earned, but given,
grace bestowed at first breath.
Margaret Dubay Mikus
© 2001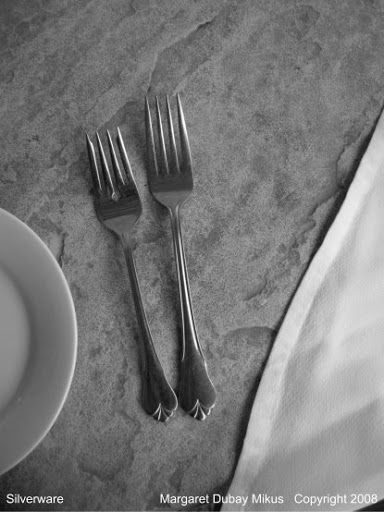 2/21/03
Is It Enough?
In this house for fifteen years, just to begin the discussion,
not complaint, but observation…and,
yes, other things were done by others—
this is not about them.
Conservatively, five thousand times making the bed,
several hundred times changing the towels, washing,
drying, folding corner to corner, putting away.
Sorting mail 260 days per year—
let's say some skipped, some holidays,
still then, totals at least three thousand.
Watering plants 600 times.
Diapering babies and baby laundry and kids sick at night
and late-night school projects—left to last minute.
Buying supplies in timely fashion,
planning for most every possible (likely) situation,
cleaning—some in spurts, not fanatically.
Is it enough that I see—and admire
all the complex steps of the daily dance
that I make all look so easy?
Clothes sorted, washed, dried (or hung) and folded,
returned to drawer or closet in one apparently smooth motion.
Our house is far from immaculate,
but still much to do to be just livable.
Sweeping when my eye or pride demands
the piles of onion skins, Kix, flour from pancakes
or dust fluffs grown large on kitchen floor.
Invisible work, only noticeable by its absence,
when clutter piles high, obscuring desk or counter,
when dust lays so thick a hand-print
is as obvious as a painting.
Appointments to be made and kept, bills paid and filed…
"Keeper of the memories…encourage, support,
listen, take care, stay connected to the earth…
do not drown in the sea of essential trivialities."
Margaret Dubay Mikus
© 2003
2/19/06
Shrinking Woman
If a woman's worth
is measured by the cleanliness
of her house, then
the old woman was worthless.
But since that was a myth
she once swallowed whole,
she could take her place
among the elders
spending her remaining
precious grateful moments
doing something else.
What doors were once
open to her? What expectation
laid on thick and heavy?
What dreams might have been
drowned in the parade of seasons;
her life defined narrowly
as was the custom of her time,
ultimately wanting more for her daughters.
Now, waiting out her allotted time,
slowly shrinking as was her world.
She had never intended
to live so long
had never seen herself
as old, yet
here she is more than
three quarters of a century…
and still counting.
Margaret Dubay Mikus
© 2006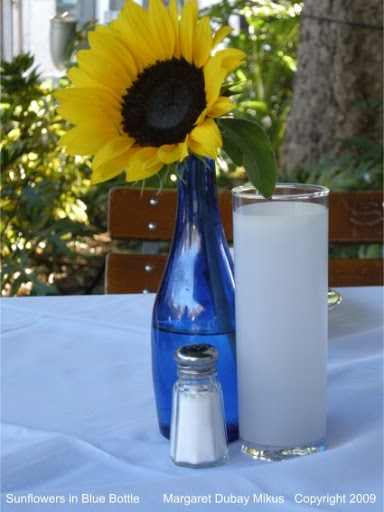 8/8/06
Re-thinking
Where was it written
that a woman: mother or wife,
must absorb the darkness, the strife,
no salary, but as a measure of worth;
where is it written?
Where was it written that sacrifice
is required to satisfactorily
carry out those mostly chosen roles:
at any cost keep them safe, secure.
Where is it written?
Somewhere deep in me I feel better
if I take on the pain, the troubles,
even at expense of my health,
even if heart can hold no more.
I would rather suffer
than watch suffering;
I would rather be dark
than watch darkness engulf another,
a loved one, someone in my special care.
But yet,
this is not sustainable,
is harsh and unkind to my body-mind.
Margaret Dubay Mikus
© 2006
3/4/08
Care of the Household
Some things done daily
some weekly or biweekly
some monthly, seasonal or annual
some every couple of years
and some rare, maybe every 10-30 years.
All important, necessary, even essential
and most…invisible…unless undone
each one not amounting to much
but in the aggregate…a mountain.
Sort mail, wash dishes, wipe off the table
clean the clutter, do the picking up
make the bed, check what needs to be checked
wash clothes and linens, drying, folding, put away
pay bills, resolve questions
clean air purifier filters
get ready for Stella to come and heavy-clean
arrange for window washing
get house painted and sump pump checked.
Listen for anything that sounds "off"
or smells "funny" or doesn't look right:
the front sidewalk sinking and driveway sealed
the roof repaired, cedar shakes preserved
ants trapped, threatening bees exterminated
rooms painted, decorated or "freshened up"
clutter cleared and clutter cleared
curtains washed, plumbing repairs made or arranged.
Any little or big thing attended to
fast or slow all in the flow of days…
and the cycle keeps cycling without end
again…mostly invisible…these mountains
filling my minutes, hours, days, months, years.
Margaret Dubay Mikus
© 2008
7/3/08
Treading Water
From something Lisa said about her mother
The daily tasks
consume so much
time, energy, attention:
mail, wash, picking up,
dirty dishes, bills, calls, emails
gardening, watering, following up,
making the bed, folding, putting away,
empty dehumidifier, check furnace filter….
Yet if done
as meditation
conscious of every breath,
gratitude for all I have:
loving family, beautiful home, nice clothes,
good food, pure water, abundant guidance, ready support.
Yes, then beyond
mere treading water:
transcendence!
Margaret Dubay Mikus
© 2008