7/3/18
Concert of American Music in Amsterdam
Eric Whitacre conducting

To hold space
while healing takes place
or could, if it would.
A sacred container
a contract, a prearranged pact.
Not bluster under shadows
but constant heart-care
to see what could be
if only
and trust still
and be patient
for the long haul.
Not succumb to the taunt of fear
but invite fear to tea.
Discern, not despair
lightly hold the sphere
I will meet you there.
We are healers
we were made for these times
everything has led up to this.
On the good days, I remember.
Margaret Dubay Mikus
© 2018
After the recent release of my book, Transcending Boundaries, this was the next poem I wrote inspired by composer/conductor, Eric Whitacre. This powerful, glorious music soaked right into me, healing, loosening, nourishing, supporting. Listen if you can–on Dutch radio4.
This references a previous poem of mine, "Invite Fear to Tea." Read it in this previous post. From my CD, Full Blooming (track 54).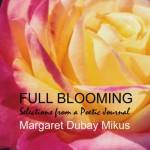 Another inspiration was the heartening essay by Clarissa Pinkola Estes, "We Were Made for These Times."