In an earlier post I wrote about meeting composer and conductor, Eric Whitacre. This is about inner guidance that came to me that night.
As I sat in Alice Millar Chapel in Evanston two feet from him, I felt that familiar feeling of smallness, almost wanting to become invisible. I was afraid I would try to speak and fumble with the words, mumbling something inane. I feared not being…well, myself…meeting someone I greatly admired, a gifted musician, a public figure, a gorgeous guy. Normally I am very articulate and love meeting new people. In fact, that night I had met a number of local members of Virtual Choir (and their partners) for the first time. I even read a few of my VC inspired poems for them. But sometimes, unknowingly…all my insecurities get triggered. Have you ever felt this way?
This was my first solo outing after recovery from major surgery in December. It was a harsh winter to be out in, and I still felt vulnerable. I am grateful Elisabeth Smith, a Virtual Choir team member, urged me to not pass up this opportunity.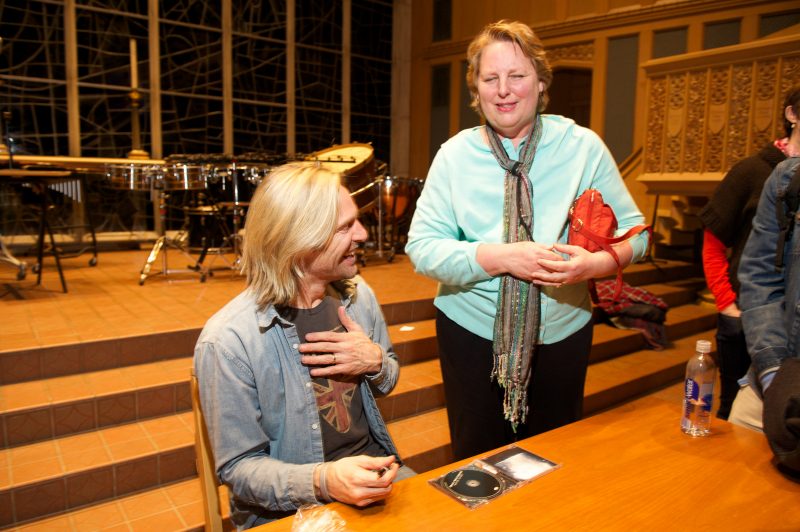 I have to say the whole evening was amazing in every regard, restoring my confidence. Several new poems were inspired by that night. Here is one, from my new book, Thrown Again into the Frazzle Machine: Poems of Grace, Hope, and Healing. (Thank you, Jonathan Cohen for generously sharing your great photos.) By the way, Eric is genuinely lovely and warm, insightful and funny, both in front a group and with each person who wanted to speak to him, a rare quality indeed.
2/8/14
Amidst the Buzz
Eric Whitacre at Alice Millar Chapel
"Do not make yourself small"
the silent voice said as I sat at the end of the pew
in the chapel where I'd never been…
and very close to you.
I had become smaller, to not be noticed perhaps,
familiar feeling I could not trust?
As an experiment I let go of
feeling intimidated.
I uncrossed my arms and breathed
air into my body as if blowing up an inflatable doll.
Could I become myself,
risk being at full strength,
no excuses to fall back on if I failed
in my clearly unstated mission?
Breathe, expand, feel energy flowing,
slowly aura grows, needing nothing.
Breathe and hold the space,
no questions to ask, only listening.
Receive what is offered, no control over anything,
feeling awareness of everything,
holding the space for what was to be, as if
every word spoken by anyone was wisdom passed down
for everyone, including and especially for me.
Give and receive, barriers and barricades demolished,
vulnerable and powerful,
the truth suddenly so obvious.
Margaret Dubay Mikus
© 2014
From Thrown Again into the Frazzle Machine: Poems of Grace, Hope, and Healing now available to pre-order. Thank you for your support!
Read more posts and poems inspired by Virtual Choir and Eric Whitacre