Should We
be known
by our scars
or by how far
we've come since
that wounding?
Could we
look at
where we are,
not
where we've been
and what's been done?
Margaret Dubay Mikus
© 1996
I wrote this poem in August of 1996, after surgery for breast cancer and right before chemotherapy. It came to mind today in honor of remembering 9/11/2001. And all the various kinds of scars of life. This is one of my poems I know by heart…and use still in all kinds of challenges. Please feel free to share.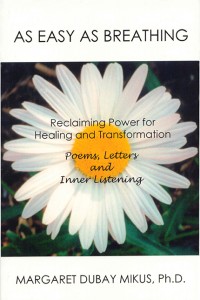 From my book, As Easy as Breathing: Reclaiming Power for Healing and Transformation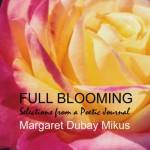 Listen to it on track 9 of my CD, Full Blooming: Selections from a Poetic Journal
Read these previous 9/11 posts:
On This Particular Day
Poems as Memory