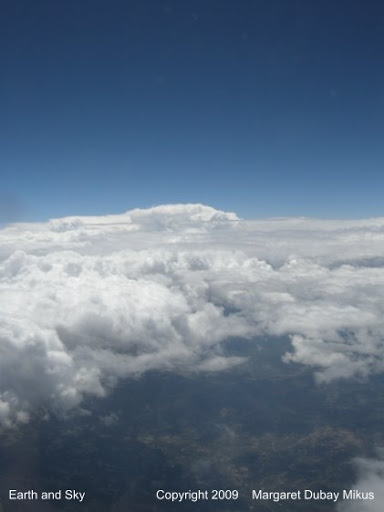 For some reason, I cannot copy-paste text from a Word document into this blog (though that is what I did for the first 21 posts!). This makes it harder to put my poems here–tough to re-write everything. "It" will allow me to insert photos (thus the previous mask photos from a mask-making workshop at my first International Women's Writing Guild conference at Skidmore College–and yes, that is my face).
So here are some pics from a trip to New Mexico last week. This combined business and vacation for my husband, but in my life there are no boundaries between "work" and "the rest." I can write and take photos anywhere and to a high degree I am my healed self everywhere I go. It all flows together. The good thing is that I am enriched by it all. The hard thing is that with no boundaries it can be easy to get over-stimulated and over-extended, with insufficient rest.
These are two photos from the plane. (I always try to get a window seat.) On this trip I was struck by the awesome variety of clouds, some of which moved in fast layers over the others or some seemed to be planted in rows like seeds in a furrow or might part to reveal patterns on the earth below. More to come.