Merry Christmas! Here is a poem I often post at Christmas, remembering and being grateful. Maybe a chuckle. The context: In 1996 as Christmas approached I had just finished chemotherapy, which had followed surgery and I was just beginning extensive radiation treatment for breast cancer. I was kind of out of it, but trying to function. Our kids were young and my husband and I wanted to have a "normal" Christmas, with gifts and tree and Christmas dinner. Here is it story of that dinner. Enjoy. And share if you wish.
Christmas Cricket
Just when I thought
nothing could shake me,
a cooked cricket
showed up on our Christmas turkey,
not crispy, but thoroughly well done,
black body sprawled across a browned thigh.
Awakened by the warmth of the oven
from winter hibernation
in a dark, safe place—the roaster,
it began the final journey
in ever increasing heat
and then succumbed,
at least where we could see
before taking a crunchy bite.
Margaret Dubay Mikus
© 1996
From As Easy as Breathing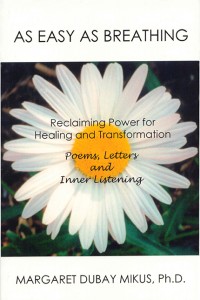 and listen to track 19 on my CD, Full Blooming