The bad news:
Found out this morning that my Facebook account had been hacked, sending out bogus posts to all my friends. Most people noticed that these were weird and some let me know this was happening. The solution was to change my FB account password, which I had to figure out how to do. (Googled.) So far, that seems to have done the trick. Lesson learned.
The good news: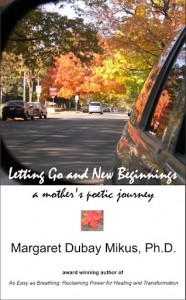 Found out an hour later in an email from the Global E-Book Awards that my latest book, Letting Go and New Beginnings: A Mother's Poetic Journey, was awarded an Honorable Mention in the category Parenting / Family Non-fiction! Hooray! I am most grateful for the recognition. The book is sold by many online booksellers including Barnes & Noble, iTunes, and Smashwords.com (all popular formats). (This book was also a finalist for an International Book Award.)
Thank you to the team at Global E-books Awards and all the judges for all their work and support of independent publishing!