What does it mean to be self-accepting, maybe even a smidge lighthearted about life's journey? To quiet the inner critic and let things just be, even celebrate making it this far?
"…Every wrinkle
tells a story
of care or neglect.
Every scar a tale
of chance or choice,
guilt, healing, awareness, or regret…."
Poem 20, "From the Stars," from Thrown Again into the Frazzle Machine: Poems of Grace, Hope, and Healing.  Listen to the entire poem here: https://youtu.be/VCVMWcqpVYQ
Are you willing to give yourself a bit more kindness, no matter all the rest? Say yes.
This poem also appeared in the literary journal, Willow Review (2013) and in Inspiring Story, in Belleruth Naparstek's blog on www.healthjourneys.com (2009)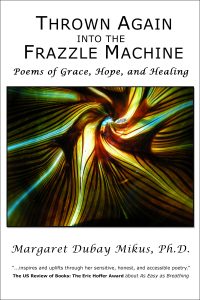 For more video poems from Thrown Again into the Frazzle Machine